Cannabis Jobs-The New Dream Job
For the everyday cannabis enthusiast, working in a pot shop is the dream job. Surrounded by the best of green, being able to educate others on your passion. The dream…
The post Cannabis Jobs-The New Dream Job appeared first on 420Careers.
For the everyday cannabis enthusiast, working in a pot shop is the dream job. Surrounded by the best of green, being able to educate others on your passion. The dream job. When Canada legalized cannabis back in October. Many Canadians across the country took up careers in cannabis. Just like any business, there is more to the industry than meets the eye. Like an iceberg. 90% of the iceberg is underwater, we only see 10% of the actual structure in front of us. How much are we not seeing when it comes to cannabis jobs? And are you applying for the right job for you and your lifestyle.
Starting out the people we see first, the people behind the counter. The people who greet your happy ass right off the get go, and put a smile on your face. It's the people who say thank you, hand you your legal bag of green and may even shake your hand. It's the people who remember your name, your face, your favorite strain, your story. It's the retail people. This job is for the people who are people oriented. Able to keep a smile on their faces 8 hours of the day. For the people who love to put themselves in the public eye, out i the open.
Retail jobs aren't for the faint of heart. Its long hours of constantly pleasing people. Knowing when you cannot win an argument and solving problems before a problem happens. But yet without the people behind the counter a store wouldn't really function. If you are looking to get your foot in the door. Retail is a great way to start, the pay is good the job is good. Your hands on learning without going to school. And of course this can all lead you to some pretty high end jobs. Where you may or may not need schooling. As for retail experience – When it comes to cannabis the better knowledge the better chance at receiving a job offer. But you can find some businesses are more the happy to take on a willing and dedicated individual to train. But with standard retail job. Having some experience in sales, POS (point of sales) and a good retail reference is asked for. And you can't forget about the AGLC. The cannabis licensing stamp of approval. Basically saying that you are not an immature 18 year old (or older) and can handle working in this kind of environment. With the right experience you could land one of the higher job titles. Manager, shift manager, key holder, assistant manager or if you played your cards right you could even have the title. Store owner.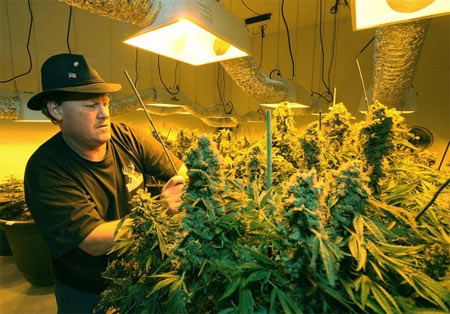 Retail isn't the only job that is booming in this amazing industry. If you have a green thumb, you may want to look into being a clipper. In other words a marijuana trimmer. For this sweet smelling job, you have to be someone who likes getting their fingers sticky. This is the job for the person who would rather sit back behind closed doors out of public eye. Touch, smell and eye f*** every blessed bud that comes his or her way.And with grace, ease and skill trim down.
This is definitely the job for the person who is looking to gain the skills and knowledge of growing and or starting their own cannabis crop. This is a great hands on learn as you go job. But it doesn't hurt to have a little knowledge in how to trim, how to handle properly, how to accurately weigh and not to mention a long day at a " tedious task". Mental preparedness for this job. If your shooting for the big time jobs. And i don't mean working for anyone. I mean working for yourself. Owning starting and creating a business. This is what people dream of doing. But can't actually do because of the hard work that comes with owning and creating their own business. This is the job for the creators. For the visionaries. For the people who are sick of working for someone else. For the people who want to say " This is MY business". If this is your dream you can do it.
Don't ever let anyone tell you you cannot. But this take a little more than just being people friendly, trimmer smart or manager qualified. This job is about being able to see what your target market needs, what your special gift is and how to stand out amongst all the corporate owned businesses across the country. Are you online based? Small town based? Do you specialize in one strain only? Do you specialize in a new waky form of trimming that makes the bud pop out so hard it makes you cream your panties? There are a few hoops you have to get through to get to the top of the charts in the business world. But if you have what it takes you can rise to any corporate owned business and come out as number one. You have to have that something special that no one else has. That drive that push that uniqueness to bring to world. Like finding any carrier. Knowing what you want out of your job, what your willing to put up with and the hours you want to work.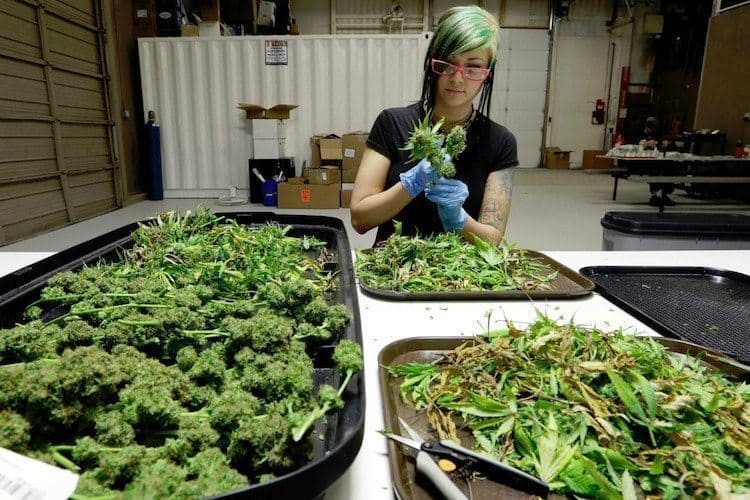 All play a factor on finding the perfect job for you and your lifestyle. Once you narrow it down to the perfect fit, you now have the pleasure of finding the
perfect business to work for. Or take over. Somethings to think about when you begin your search. Are you looking to relocate? Are you willing to
relocate? Are you looking for a large company? Or would you rather work for a small locally owned store where you see the same 5 people every day?
Choose wisely my friends. Your job is where you spend a good 80% of your life.
The post Cannabis Jobs-The New Dream Job appeared first on 420Careers.
Is it Better to Grow Your Own Weed or to Buy it Legally?
As the laws keep changing the popularity of weed and cannabis products is growing. Many use cannabis recreationally and others for medical purposes.
Whatever the reason is that you choose to use cannabis or products derived from it there are questions you will probably ask yourself.
There are numerous grounds for cultivating your own weed. There are also many more that you should consider buying from a dispensary.
Here are the arguments and reasons for both sides.
The Price
The first thing most people will consider is the price. No doubt as a weed user you are going to consider how much money you spend each month on cannabis.
If you are spending a lot buying cannabis then growing your own may well be worth considering.
At the start, your wallet will get hit though. Whether it is worth your time growing will definitely depend on your monthly spending.
If you are spending hundreds of dollars then you can recoup this over time.
How do you Begin Growing?
This is when your cash will initially disappear. You need quality seeds which can be expensive, you will also need the right equipment and conditions.
Knowing how to choose the best lights for growing weed and how to pick other pieces of kit will help. You will have to acquire knowledge on how to tend to your new plants.
Many websites can help you learn to grow weed and how to look after your plants, soil and add nutrients when needed. You may well find you enjoy being a grower too.
To be fair, while you are on the net you could just buy weed online. Before you make your choice look below for the pros and cons of buying or growing.
The Legalities
This is an area no stoner or grower takes any fun from but it is necessary to know the law.
If you want to grow your own weed then you have to check whether it is possible to do so and what your state's marijuana laws are.
You may find that you are allowed to grow for recreational and medical use, medical use only, or not growing at all.
You must look into these laws before even considering growing your own weed.
What other Benefits are there from Growing your Own Weed?
Growing your own weed means avoiding dealers and making dodgy deals. It means you are in complete control over how your own plants grow and you can take pleasure in their growth.
It is very possible you will end up with a new hobby. Some people believe you get a better taste and high from your own product too.
You could potentially make money from retailing your weed if you are licensed and legal of course.
Also, by proving you have the skills to grow quality crops and different strains you could end up being employed in the legal marijuana industry. This means your hobby and passion could lean to gainful employment.
What are the Downsides to Growing your own Weed?
As already mentioned, you will have to invest some money into your new hobby or growing scheme.
There are no promises that you will make this money back either.
Of course, buying the right equipment, grow tents, and learning about pH levels can help but it is easy to ruin a crop when you are starting out and then you are back to square one.
There are some other areas to consider too:
Nosey Neighbors
Even if you are growing legally in a state or region that allows it you still run the risk of upsetting neighbors.
Perhaps they disapprove, they could cause problems with the building's owner.
You can of course avoid this issue if you use a stealth grow box but there are problems you can have even with good neighbors.
The smell from the plants can invade your next-door-neighbors homes and cause issues between you. You will need to use carbon filters to reduce the smell and also be safe with your use of electrical points.
Don't go overboard and cause accidents by plugging in too many devices.
Not Being Subtle about Growing
Another reason to buy your own weed is that it can be hard to hide that you are growing weed.
Many people post pictures of their plants, or a friend takes a snap without you knowing, and uploads it to the net.
Some just carelessly allow their plants to be seen through the windows. This can lead to an angry landlord or even someone deciding to steal your crop after you advertised it.
Reasons you Should use a Dispensary
Firstly it is safe and legal. Buying from the streets means you have no inkling of what you might end up smoking.
The stuff on the streets can be bulked up and will not be looked after in the same way it would be from a legal source.
You could go to a cannabis dispensary to make your purchase knowing you will get what you want.
There are Plenty of Choices in Legal Stores
A dispensary will have a variety of strains for you to choose from. If you want to grow at home of course you can experiment but buy from the street will lead to you taking home whatever you can find.
There are also other choices in a dispensary.
CBD Products are also Available
You can have a much more relaxed time visiting a dispensary for your purchase. You don't need to trouble yourself about nutrients in your soil or buy any equipment.
While you browse you can ask the staff questions about anything that is unclear or new to you.
You can also explore other CBD products instead of just weed, such as gummies or body lotions. Some of these products can help with pain relief and anxiety.
Summary
There are definitely benefits on both sides of the argument. For some growing, their own weed is a hobby and a pastime, even though the result is important.
For others visiting a dispensary allows a simple, safe transaction that doesn't involve any complications, investments, or growing knowledge.
The post Is it Better to Grow Your Own Weed or to Buy it Legally? appeared first on TopGrows.
Sundial Cannabis Hyped On r/WallStreetBets
CANNABIS CULTURE –  Are they headed for a peak or a cliff? Head-quartered in the Rocky Mountain foothills of Calgary Alberta, Canada — Sundial Cannabis Growers — has been named to the subreddit r/WallStreetBets prestige list of "meme-stocks" by popul…
CANNABIS CULTURE –  Are they headed for a peak or a cliff? Head-quartered in the Rocky Mountain foothills of Calgary Alberta, Canada — Sundial Cannabis Growers — has been named to the subreddit r/WallStreetBets prestige list of "meme-stocks" by popular poster Swaggy Stocks.  In the past, the company's total assets have been listed as high as $1 billion and the stock has been called a "unicorn."  Sundial reports liquidity estimated at $610 million in cash…
Cannabis in Jewish Magic and Alchemy
CANNABIS CULTURE. References to cannabis appear in both alchemical and magical manuscripts tied to Jewish culture, and this use was likely an extension of the Hebrew's much more ancient relationship with the plant. Excerpted from Liber 420. Cannabis Ma…
CANNABIS CULTURE. References to cannabis appear in both alchemical and magical manuscripts tied to Jewish culture, and this use was likely an extension of the Hebrew's much more ancient relationship with the plant. Excerpted from Liber 420. Cannabis Magic in Ancient Israel? The potential role of cannabis in the origins of the Jewish religion, is something I have proposed for close to 30 years, expanding on the work of the Polish Jewish etymologist and anthropologist Sula…